MetaMask was created out of the needs of creating more secure and usable Ethereum-based web sites. In particular, it handles account management and connecting the user to the blockchain. It's supported in Chrome, Brave, and Safari browsers.
Note: Make sure it's offered by metamask.io
Click on "Add to Brave"

​​
That's it! You have successfully installed MetaMask extension in Brave!
Create an account in MetaMask
Click on the "Create a wallet" button
Create Password of at least 8 characters

​​

Click on "Create" and then write down your backup phrase.

​​

Select each phrase in order to make sure it is correct then click "Confirm".

​​

Congratulations! you have create your MetaMask account!

Fixed MetaMask to the browser menu
Example:Classic Version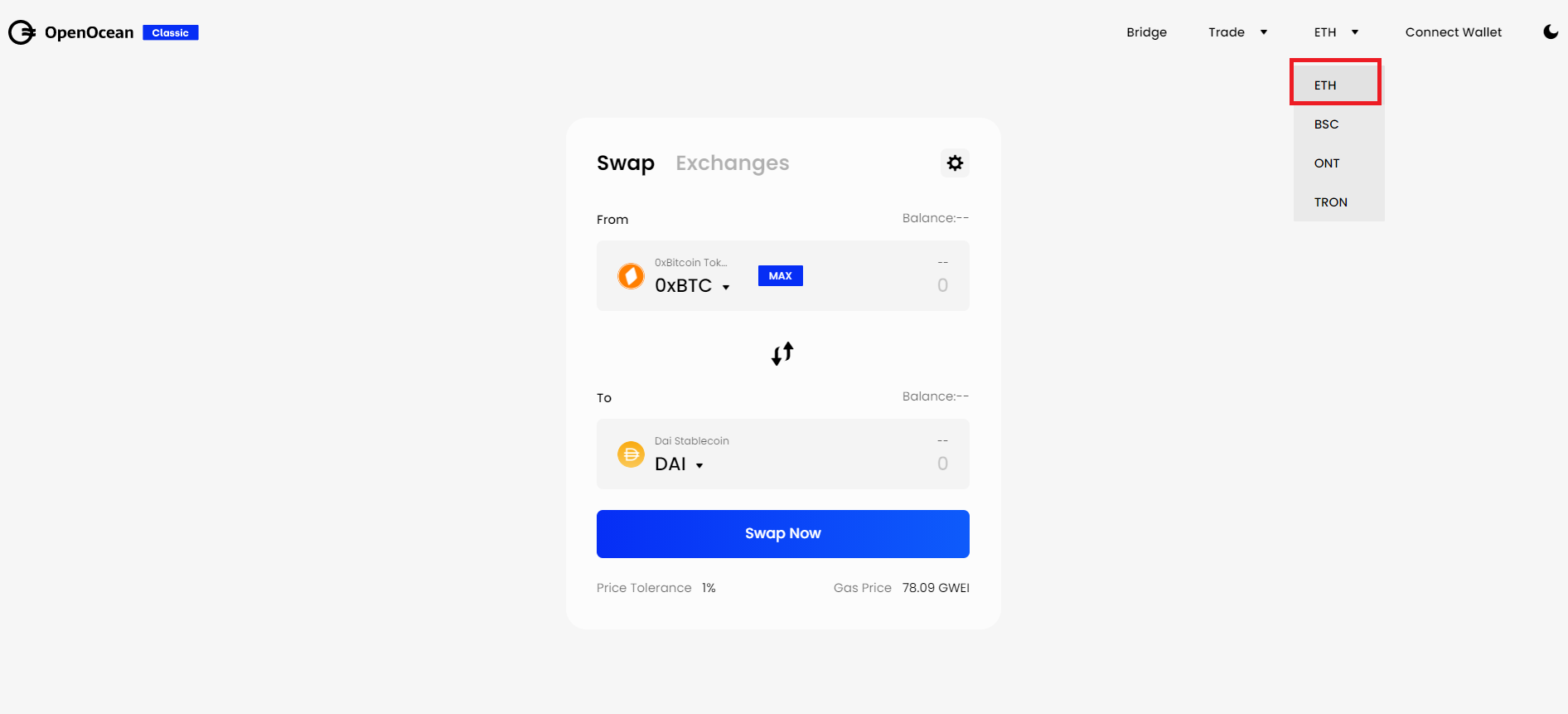 Connect Wallet and select "Metamask"
​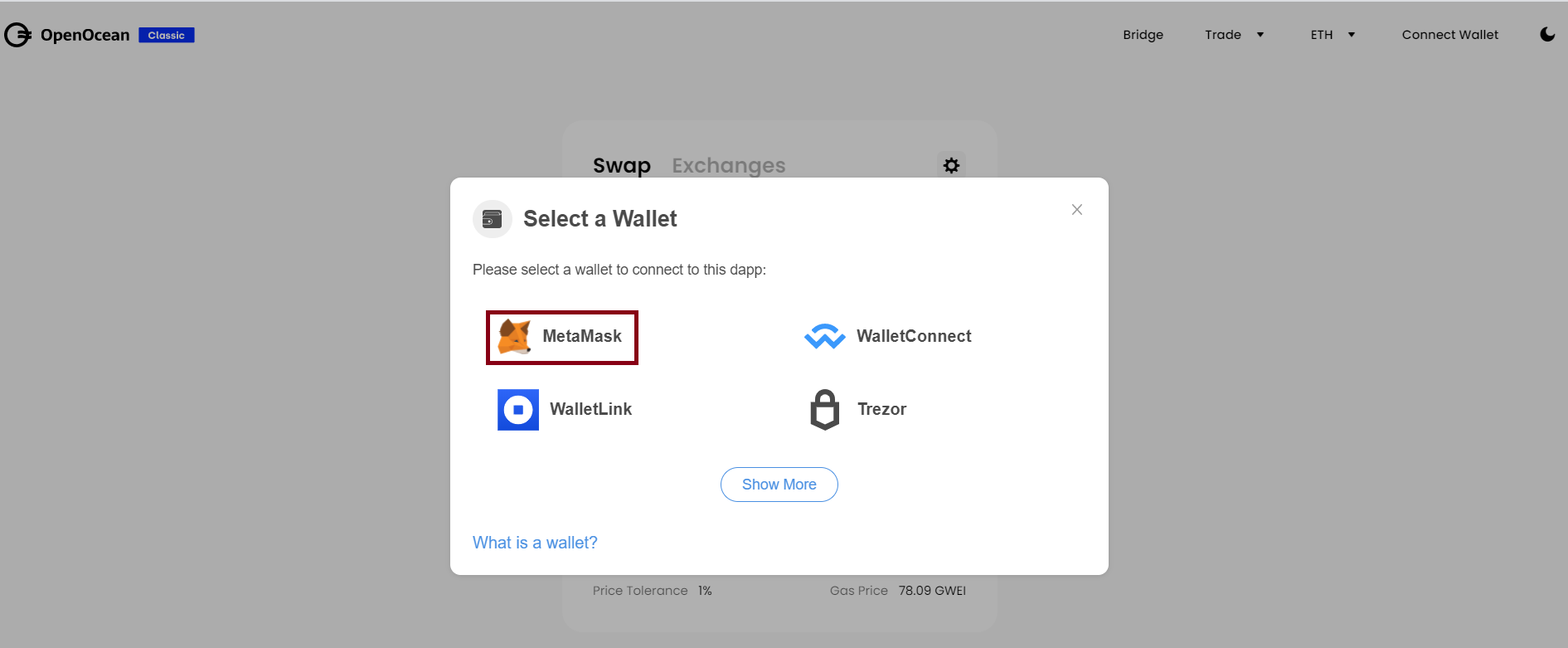 ​
Unlock your Metamask account and make sure it is connected to Ethereum Mainnet;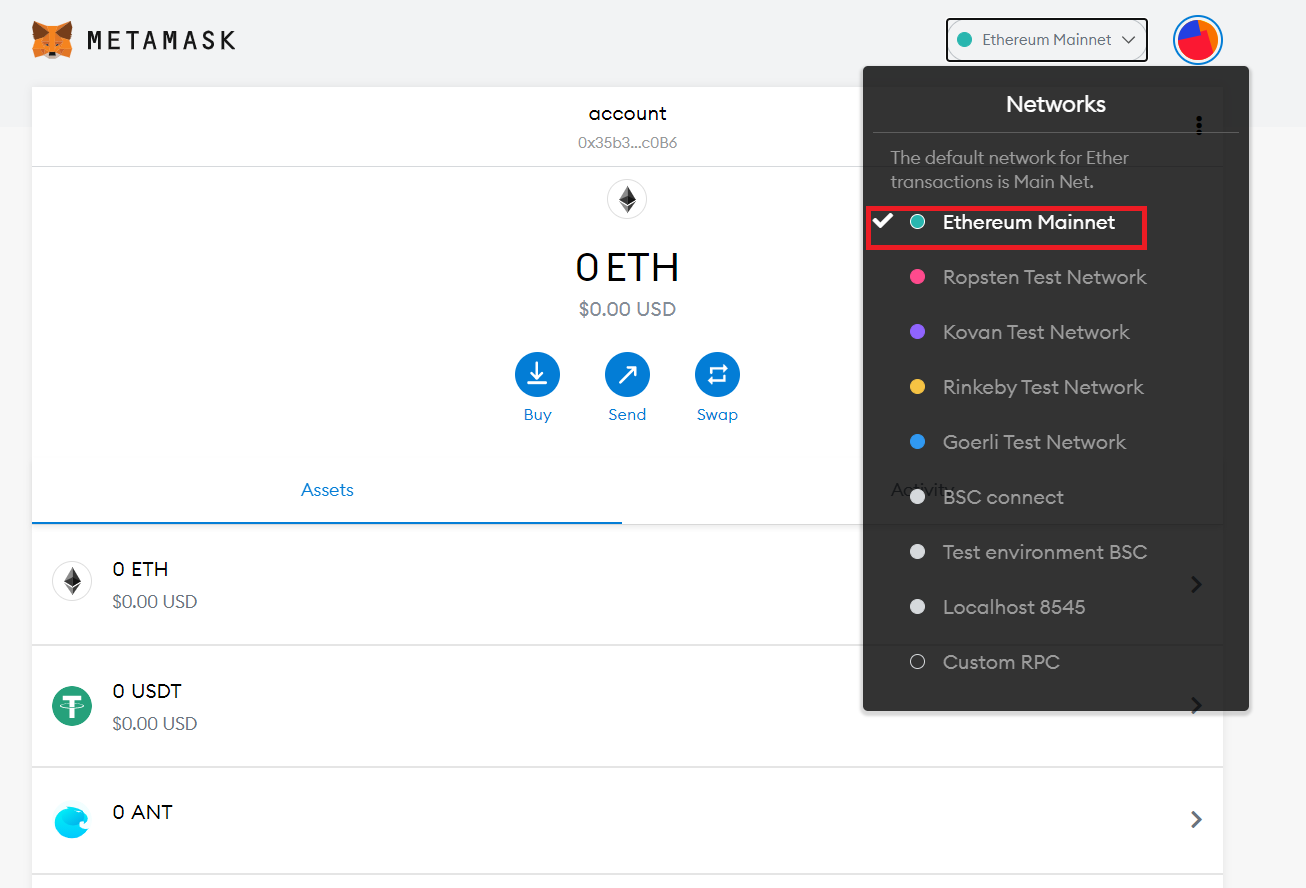 Select the tokens and quantity of the transaction,Click "swap now" and "confirm now";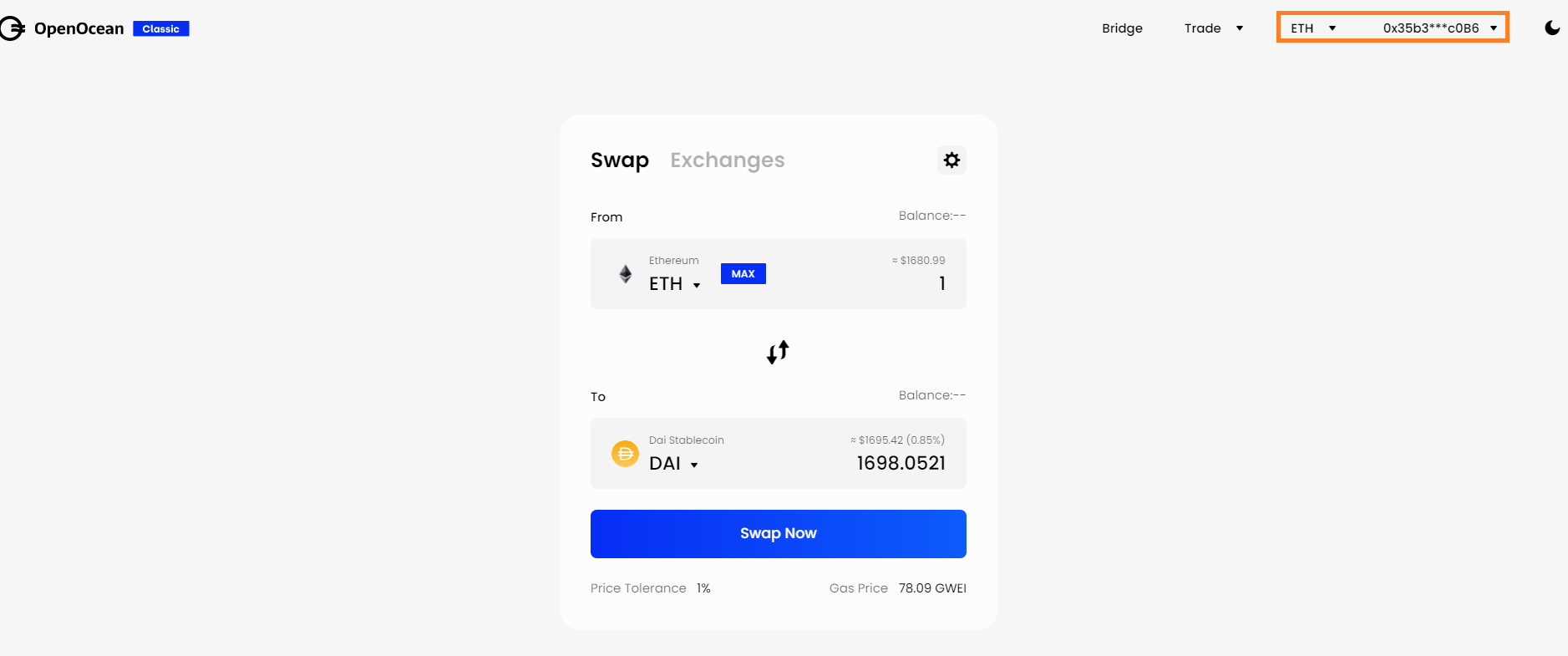 Example:Classic Version
MetaMask setting
Go to setting page on your Metamask wallet

​ ​​

Go to "Networks" item to add a cutom PRC network

​ ​​

Enter the following parameter settings:

​ ​​
Network Name: BSC connect
New PCR URL: https://bsc-dataseed.binance.org/
ChainID: 0x38
Symbol: BNB
Block Explorer: https://bscscan.com
Click the Metamask icon on the top right side of your browser from Open Ocean website (https://openocean.finance)(enable the icon if being retsricted).

Click the expansion icon on the right side of your account name and choose"connected sites". Choose "Manually connect to current site" to connect with OpenOcean website.
​
​
​
Choose your account on Metamask and connect.

Connect wallet and do SWAP

Visit Classic website: https://openocean.finance/calassic and select BSCchain ;

Connect Wallet and select "Metamask";

​​

Confirm again that the MetaMask is connected to the BSC network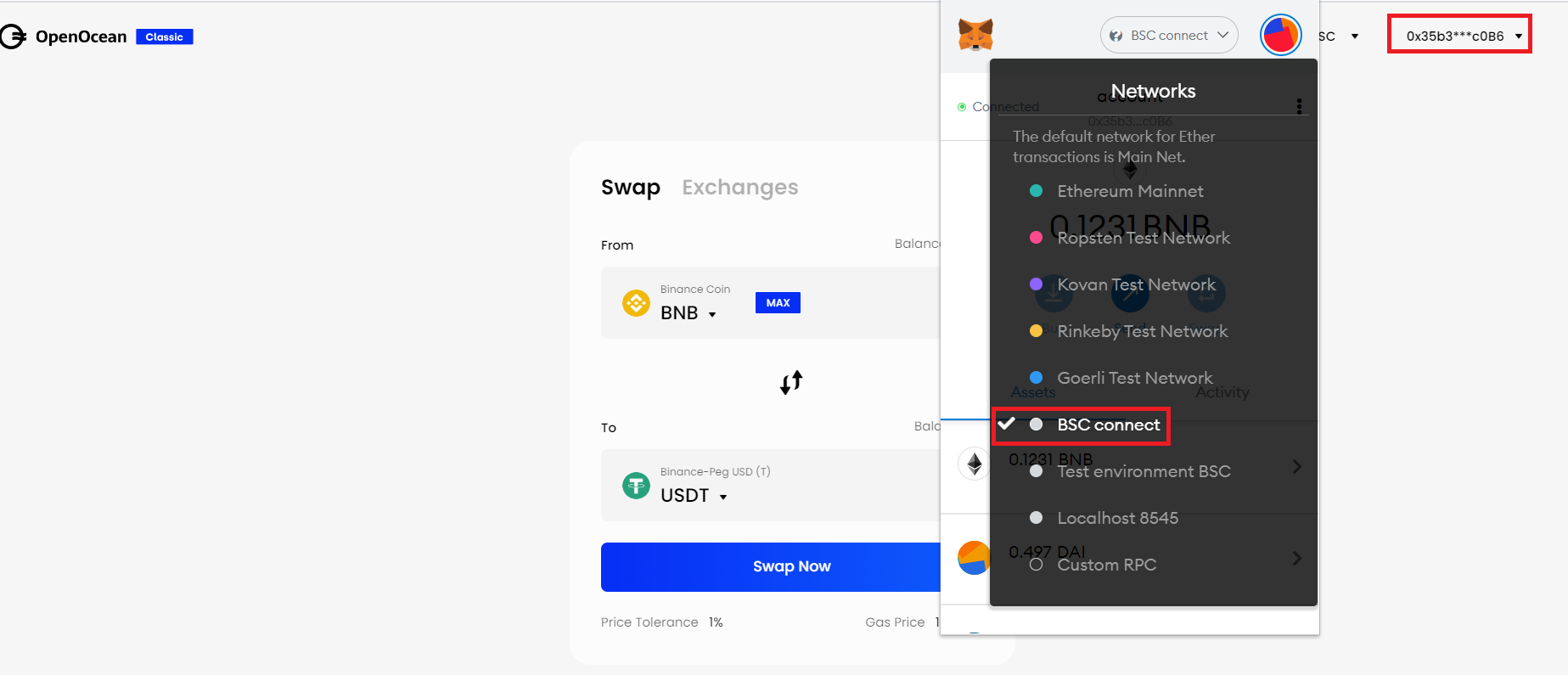 Select the tokens and quantity of the transaction,Click "swap now" and "confirm now";

​​
​ 1、In MetaMask, Click on "Add Token",Choose "Custom Token"
​
​
​ 2、copy the contract address in the box and Click on "Add Tokens"
​
​
3、contract address list(more address list:https://bscscan.com/tokens)
​
​ ETH address: 0x2170ed0880ac9a755fd29b2688956bd959f933f8
​ CAKE address: 0x0e09fabb73bd3ade0a17ecc321fd13a19e81ce82
​ BURGER address: 0xae9269f27437f0fcbc232d39ec814844a51d6b8f
​ BAKE address: 0xe02df9e3e622debdd69fb838bb799e3f168902c5
​ DAI address: 0x1af3f329e8be154074d8769d1ffa4ee058b1dbc3
​ USDT address: 0x55d398326f99059ff775485246999027b3197955
​ BUSD address: 0xe9e7cea3dedca5984780bafc599bd69add087d56
​ USDC address: 0x8ac76a51cc950d9822d68b83fe1ad97b32cd580d
​ BCH address: 0x8ff795a6f4d97e7887c79bea79aba5cc76444adf
​ WBNB address: 0xbb4cdb9cbd36b01bd1cbaebf2de08d9173bc095c
​ FRIES address: 0x393b312c01048b3ed2720bf1b090084c09e408a1
​ BSC FARM address: 0x17bc015607fdf93e7c949e9ca22f96907cfbef88
​ JNTT/b address: 0x78e1936f065fd4082387622878c7d11c9f05ecf4
​ BTCB address: 0x7130d2a12b9bcbfae4f2634d864a1ee1ce3ead9c
​ FOR address: 0x658a109c5900bc6d2357c87549b651670e5b0539
​ COKE address: 0x0950c852436b3e25e6fe798a74489a4686b18159
​ KOGE address: 0xe6df05ce8c8301223373cf5b969afcb1498c5528
​ USDY address: 0xe955ca3c79da781bf3e3da48f7a4a487f54bb1d4
​ LINK address: 0xf8a0bf9cf54bb92f17374d9e9a321e6a111a51bd
​ UNI address: 0xbf5140a22578168fd562dccf235e5d43a02ce9b1
​ EOS address: 0x56b6fb708fc5732dec1afc8d8556423a2edccbd6
​ DOT address: 0x7083609fce4d1d8dc0c979aab8c869ea2c873402
​ SXP address: 0x47bead2563dcbf3bf2c9407fea4dc236faba485a
​ ADA address: 0x3ee2200efb3400fabb9aacf31297cbdd1d435d47
​ YFI address: 0x88f1a5ae2a3bf98aeaf342d26b30a79438c9142e
​ BAND address: 0xad6caeb32cd2c308980a548bd0bc5aa4306c6c18
​ QUSD address: 0xb8c540d00dd0bf76ea12e4b4b95efc90804f924e
​ HARD address: 0xf79037f6f6be66832de4e7516be52826bc3cbcc4
​ KUN address : 0x1a2fb0af670d0234c2857fad35b789f8cb725584